Description
There's never been a better Focusrite audio interface range than the Red Range. The second member of this acclaimed new series, the Red 8Pre features eight new, specially-developed 'Red Evolution' mic preamps with 'Air' transformer emulation, high-headroom instrument inputs, a new low-noise conversion design plus a grand total of 64 inputs and 64 outputs (including 16 analogue inputs and 18 analogue outputs), Red 8Pre incorporates dual Thunderbolt™ 2 ports for round-trip latency as low as 1.67ms, and direct connection to Pro Tools | HD systems. Add to that the ability to connect up to 32 additional inputs and outputs via Dante™ Ethernet-based audio networking and you have one of the most advanced, best-sounding, and most versatile interfaces available today.
The eight digitally-controlled mic pres, which can be controlled from software or by using the clean, clear front panel controls and colour LCD displays deliver clear, honest audio performance with -129 dB EIN and 63dB of gain, and include Focusrite's unique 'Air' effect, authentically recreating the sound of the transformer-based preamps in the classic ISA range - ideal for bringing out the breathy quality of a vocal or adding presence to an acoustic guitar. Red 8Pre's new high-performance conversion system features 'parallel path summing', where two matched converters are run in parallel to increase the signal to noise ratio. They operate at up to 24-bit, 192 kHz sampling — ideal for high-resolution audio — with a dynamic range of 118dB (A-D)/121dB (D-A). The Red 4Pre delivers ²0.0009% THD+Noise and a frequency response flat from 20Hz to 35kHz ±0.25 dB.
Red 8Pre offers exceptional connectivity. Not only does the Red 8Pre deliver Thunderbolt 2 capability - with dual ports, so you can daisy-chain your hard drives or displays - and our lowest round-trip latency; it also includes dual DigiLink™ connectors for direct connection to Pro Tools | HD systems and Avid® interfaces. And in addition, Dante Ethernet-based audio networking - the studio interconnect of the future - is built-in. Add up to 32 extra inputs and outputs right where you need them, with any combination of Dante interface, including Focusrite's own RedNet range, for low latency and lower-cost expansion - wherever there's an Ethernet cable.
With its extensive capabilities and beautiful yet robust design, the Red 8Pre represents the perfect balance of form and function, delivering the sound quality, transparency and versatility that audio professionals across the world expect from Focusrite.
Key Features

64 inputs/64 outputs - inc 16-in /18-out analogue I/O.
Eight Red Evolution mic pres with 'Air' transformer emulation
Precision 24-bit/192kHz conversion, with up to 121dB dynamic range.
'Parallel path summing' conversion for lower noise
Optimal combination of sound quality, noise floor, dynamic range and conversion latency.
Perfect for high-resolution audio.
Colour LCD displays and assignable controls for simple and quick operation.
Both front panel and software control
Dual Thunderbolt™ 2 ports for daisy-chaining
Direct Pro Tools DigiLink™ connection
Dante Network Audio enabled
1.67ms round-trip latency - record with plug-ins in real time
Add up to 32 extra inputs and outputs via Ethernet
Front-panel instrument inputs
Focusrite's best interface series yet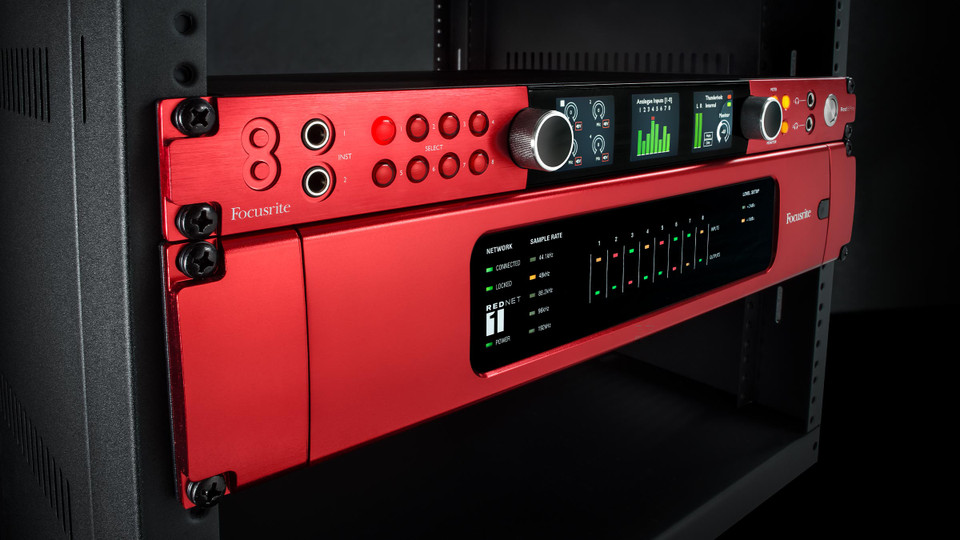 64x64 premium audio interface for Pro Tools | HD™ and Thunderbolt™ 2 workflows, featuring eight Red Evolution mic pres and 32x32 Dante™ audio-over-IP connectivity
Red 8Pre features both Thunderbolt 2 connectivity and dual mini-DigiLink ports allowing you the best of both Core Audio and Pro Tools | HD workflows. Take Red 8Pre on the road for location recording over Thunderbolt then connect the same interface to Pro Tools|HDX or Pro Tools|HD Native back at the studio for mixdown. Switch easily between Pro Tools | HD and any Thunderbolt-connected DAW with Host Mode. The combination of low-latency conversion and driver technology allows real-time foldback mixes to be created in the DAW while you continue to use your native plug-ins. Unlike many interfaces, both mini-DigiLink and Thunderbolt 2 connectivity comes as standard, so there's no need to buy an additional option card.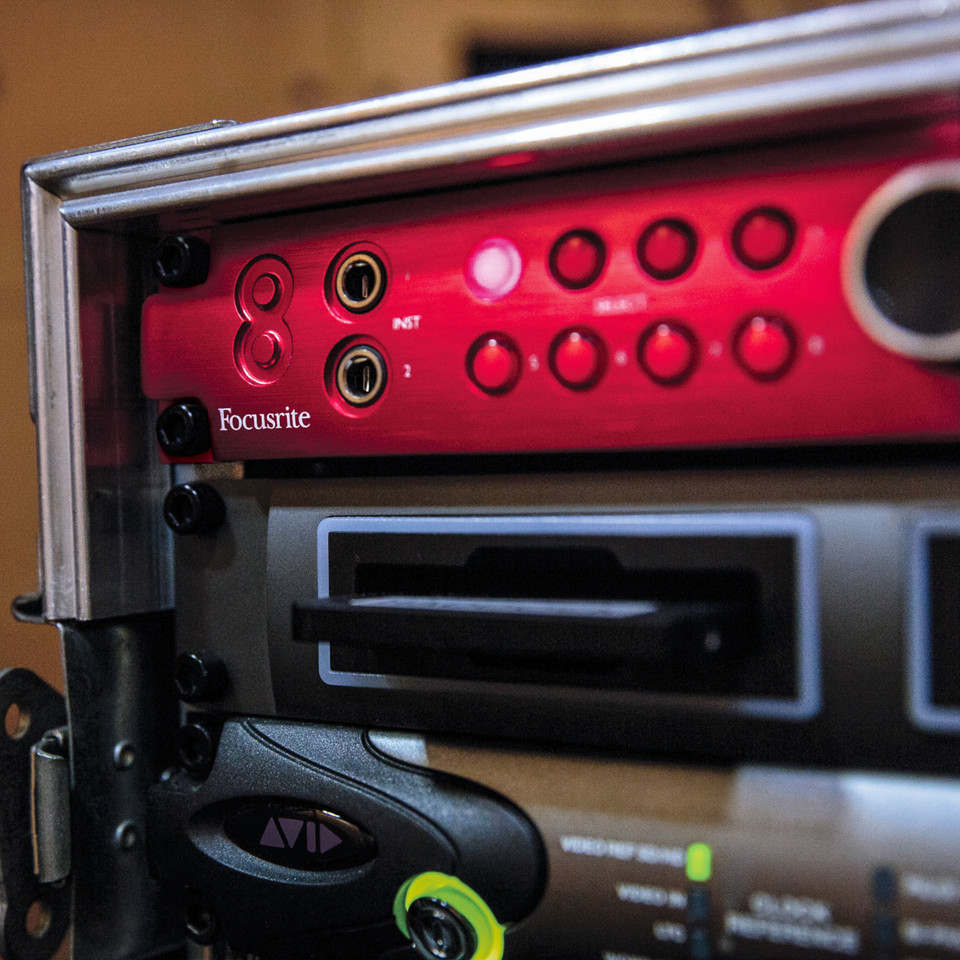 Eight Red Evolution mic pres
Focusrite's Red Evolution mic pres draw on many decades of design prowess as well as many of the elements behind the incredibly popular RedNet mic pre used in many studios, broadcast facilities and live performances around the world. The digitally-controlled mic pres deliver a clear and honest sound with very low noise and plenty of gain available for the most-quiet of sources. They can be controlled from the front panel or remotely over Thunderbolt using RedNet Control. Additionally the mic pre settings can be saved and recalled allowing you to quickly re-setup for your next session. They also include our unique 'Air' effect, recreating the sound of the transformer-based mic preamps in the ISA and original Red ranges. When 'Air' is enabled, the microphone impedance is lowered and the sound is given a subtle mid-high boost – all in the analogue domain.
Parallel path conversion
Focusrite has been designing digital converters for over 20 years. From the original Blue 245 and 260 mastering-grade A-D and D-A, through the Liquid Channel and more recently RedNet, digital conversion is a key part of our design heritage and philosophy. Every converter we design starts with the same objectives: low latency, high dynamic range and a flat, wide frequency response. Red 8Pre's conversion achieves just that, lightning fast performance, a dynamic range of 118dB A-D and 121dB D-A and a flat response to 35kHz. By using "parallel path summing" we have achieved even greater noise-performance than ever.
Ultra-low latency
Monitoring latency is the enemy of any performer and if the performance isn't excellent, the final mix won't be either. By utilising the lowest-latency conversion available, coupled with a high-performance Core Audio driver, Red 8Pre's analogue round trip latency is kept to an exceptionally low minimum of 1.67ms.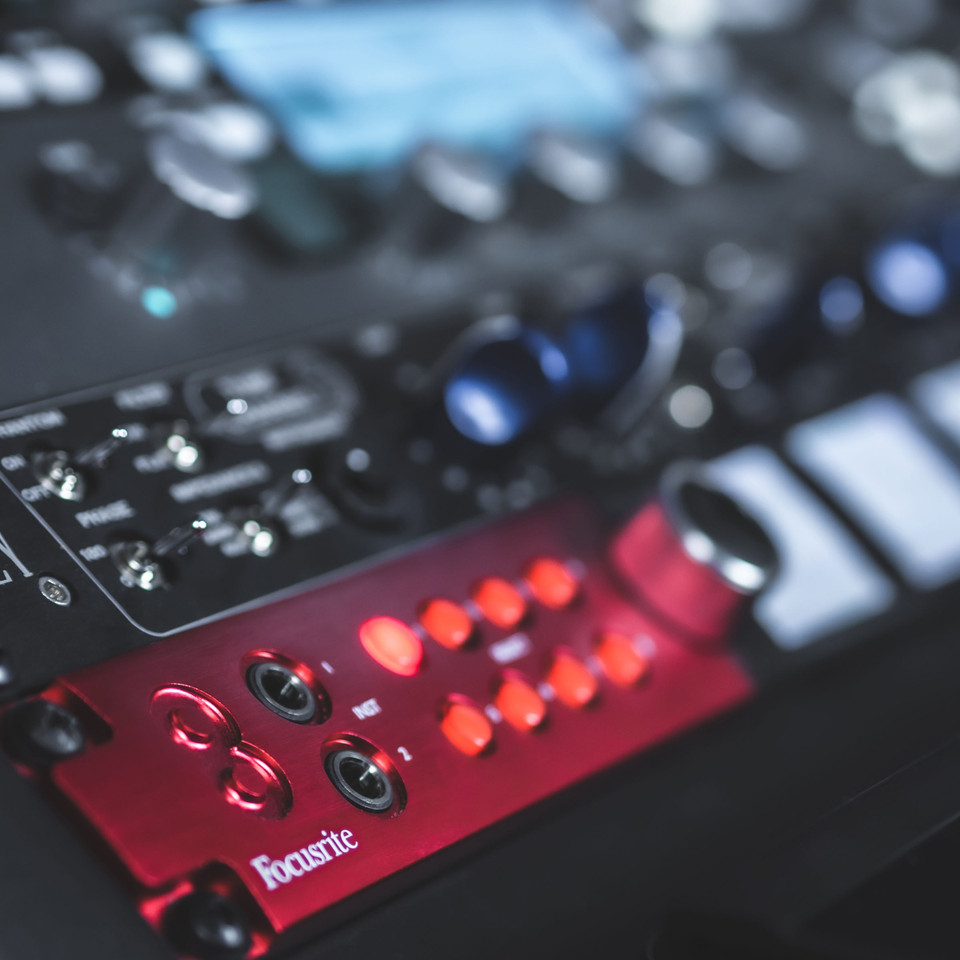 Hugely flexible
Since Red 8Pre allows the user to assign any physical input or output to any driver/Pro Tools|HD channel, it's easier than ever to customise the interface layout and integrate hardware inserts. Simply open RedNet Control software and reallocate the channels as required.
Simple switching between DAWs
Switch between Pro Tools | HD and a DAW connected to the Thunderbolt interface using the Host Mode setting in the included RedNet Control software. For example, you can switch quickly and easily between Pro Tools | HD and Ableton, Logic or Pro Tools software - just keep both connected at all times and make the switch whenever you need.
Room for expansion
While Red 8Pre has enough I/O for many scenarios, sometimes more is needed. That's why Red 8Pre includes two ADAT ports, for up to 16 additional inputs and outputs. Simply connect any ADAT equipment, such as the Focusrite Octopre, using light pipes. However in today's modern studio, audio networking is taking over. Focusrite's RedNet range is the world's most popular modular audio-over-IP platform. We've brought some of that technology to Red 8Pre, allowing up to 32 channels of Dante inputs and outputs to be connected. Simply plug in an Ethernet cable and add additional mic pres or line I/O with ease. Alternatively arrive at the studio or venue and simply connect one Ethernet cable to Red 8Pre to gain access to the whole network. The possibilities are huge.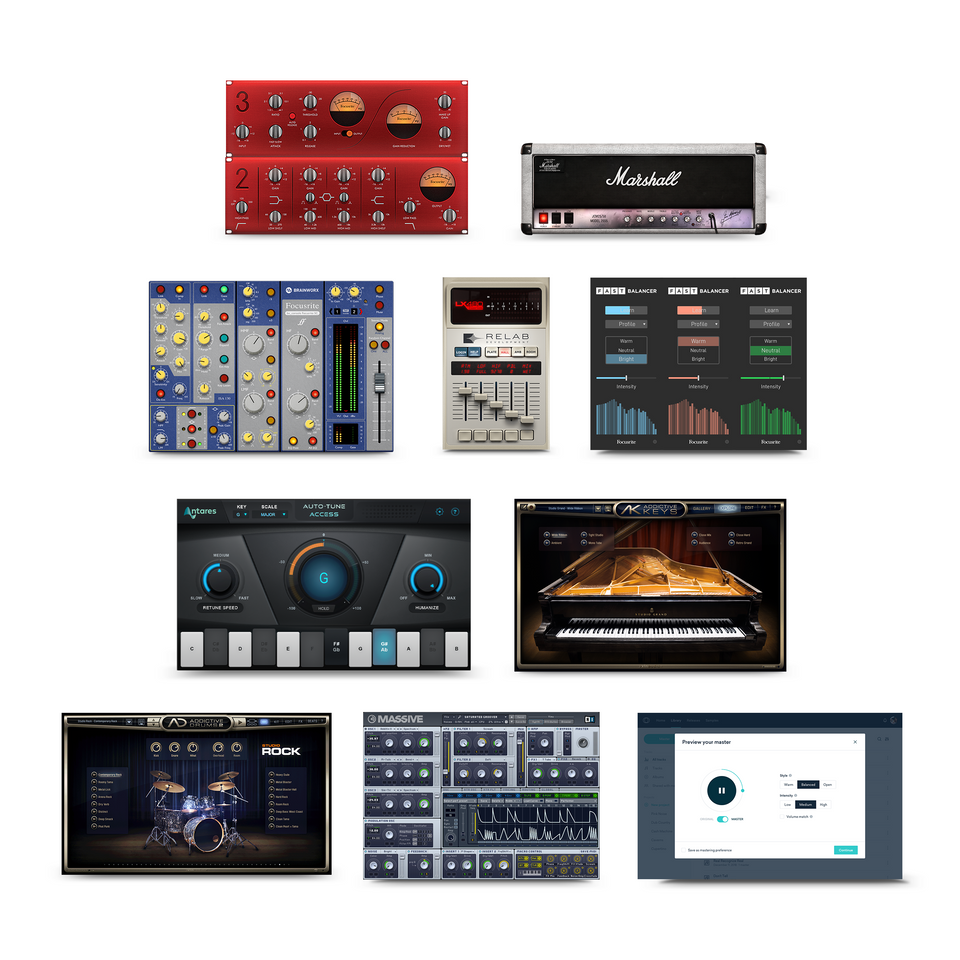 Hitmaker Expansion
Improve your sound with studio-quality vocals, powerful guitars, dramatic synths and huge drums, then mix and master with iconic Focusrite studio hardware — all in the box. Every new Red interface comes with an unbeatable range of tried-and-tested studio tools from some of the biggest names in the business.
Hitmaker Expansion — available with every newly registered Red interface — is built to get you mixing and mastering release-ready music immediately. These are all the plug-ins you need to take your studio-quality tracks to the next level and achieve professional results.
Discover Hitmaker Expansion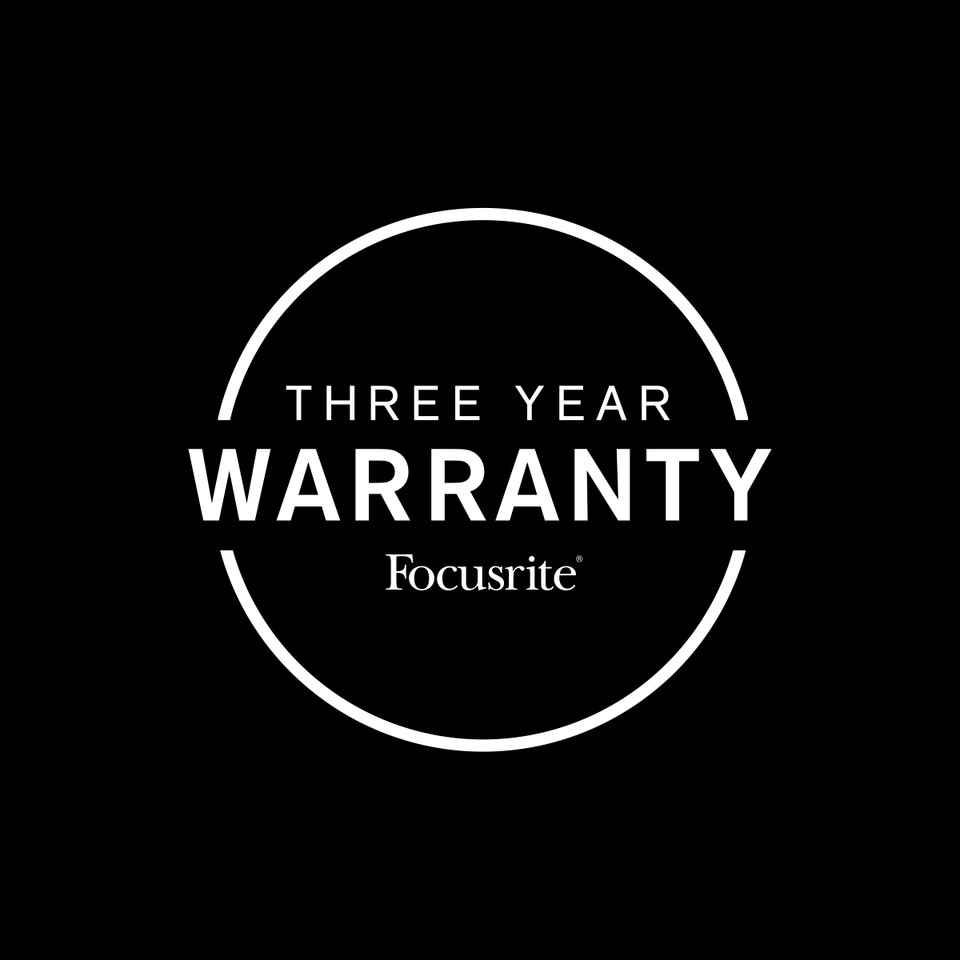 Enjoy 3 years of warranty
All Focusrite products are built to the highest standards, and are designed to provide many years of reliable performance.
Simultaneous inputs & outputs
Channel Count

Up to 64 x 64

Thunderbolt Channel Count

Up to 64 In and 64 Out

Thunderbolt Ports

2 x Thunderbolt Ports (Primary Port 1 and Primary Port 2)

Pro Tools Channel Count

Up to 64 In and 64 Out (32 In and 32 Out per connection)

Primary Port

2 x Mini DigiLink

Dante Channel Count

Up to 32 In and 32 Out

Dante Input And Output

2 x ethernet standard RJ45 connectors (Compatible with Cat 5e and above).
System requirements
Computer

Apple Mac with at least one Thunderbolt or Thunderbolt 2 port (2m Thunderbolt cable included)

Other

Internet connection for downloading and installing software and driver
Microphone inputs
Gain Range

0-8dB to 63dB in 1dB steps

Type

Electronically Balanced, Zin = 6.2kΩ

Max. Input Level

+19dBu ±0.5, min gain

Min. Input Level

-44dBu ±0.5

Frequency Response

20Hz - 35kHz ±0.2dB, min gain

THD + N

-101dB (0.0009%) @ -1dBFS (@ 11dB Gain)

EIN

-129dBu 'A'-Weighted (typical)

Signal-To-Noise Ratio

119dB 'A'-Weighted (typical), min gain

Common-Mode Rejection Ratio

50/60Hz CMRR: -70dB

Phantom Power

+48V, independently switchable per channel

HPF

High-Pass Filter (HPF): -3dB @ 80 ± 3Hz, 12dB/Octave, independently switchable per channel

Air Mode

2dB boost at 10kHz and -2dB at 20Hz (ref 1kHz). Input impedance drop to 2.2kΩ

Mic Inputs Channel Count

8 In

Mic Inputs

1 x DB-25 connectors (AES59)
Line inputs 1-8
Line Inputs 1-8 Type

Electronically Balanced, Zin = 10kΩ

Line Inputs 1-8 Max. Input Level

+27dBu ±0.5, min gain

Line Inputs 1-8 Min. Input Level

-36dBu ±0.5

Line Inputs 1-8 Frequency Response

20Hz - 35kHz ±0.2dB, min gain

Line Inputs 1-8 THD + N

-101dB (0.0009%) @ -1dBFS (@ 11dB Gain)

Line Inputs Signal-To-Noise Ratio

119dB 'A'-Weighted (typical), min gain

Line Inputs Common-Mode Rejection Ratio

50/60Hz CMRR: -70dB

Line Inputs 1-8 HPF

High-Pass Filter (HPF): -3dB @ 80 ± 3Hz, 12dB/Octave, independently switchable per channel

Line Inputs 1-8 Air Mode

2dB boost at 10kHz and -2dB at 20Hz (ref 1kHz)
Line inputs 9-16
Line Inputs 9 - 16 0 DBFS Reference Level

+27dBu ±0.5

Line Inputs 9 - 16 Type

Electronically Balanced, Zin = 20kΩ

Line Inputs 9 - 16 Frequency Response

20Hz - 35kHz ±0.2dB

Line Inputs 9 - 16 THD + N

-104dB (0.0006%) @ -1dBFS

Line Inputs 9 - 16 Signal-To-Noise Ratio

119dB 'A'-Weighted (typical)

Line Inputs 9 - 16 Common-Mode Rejection Ratio

50/60Hz CMRR: -70dB
Instrument inputs
Instrument Inputs Gain Range

0-8dB to 63dB in 1dB steps

Instrument Inputs Type

Zin = 2.3MΩ

Instrument Inputs Max. Input Level

+15dBu ±0.5, min gain

Instrument Inputs Min. Input Level

-48dBu ±0.5

Instrument Inputs Frequency Response

20Hz - 35kHz ±0.2dB, min gain

Instrument Inputs THD + N

-94dB (0.002%) @ -1dBFS (@ 11dB Gain)

Instrument Inputs Signal-To-Noise Ratio

117dB 'A'-Weighted (typical), min gain

Instrument Inputs HPF

-3dB @ 80 ± 3Hz, 12dB/Octave, independently switchable per channel

Instrument Inputs Air Mode

2dB boost at 10kHz and -2dB at 20Hz (ref 1kHz)
Line outputs 3-18
Line Outputs 3-18 0 DBFS Reference Levels

+18dBu ±0.5

Line Outputs 3-18 Frequency Response

20Hz - 35kHz ±0.2dB

Line Outputs 3-18 THD + N

<-102db (0.0008%) unweighted, 20hz - 20khz; -1dbfs input< span>-102db>

Line Outputs 3-18 Dynamic Range

121dB 'A'-weighted (typical), 20Hz - 20kHz

Line Outputs 3-18 Output Impedance

Nominal output impedance = 136Ω balanced (68Ω each phase)
Monitor outputs
Monitor Outputs Frequency Response

20Hz - 35kHz ±0.2dB

Monitor Outputs Dynamic Range

+120dB (A-Weighted)

Monitor Outputs Maximum Output Level (0 DBFS)

+18dBu ±0.5

Monitor Outputs THD+N

<-78db (0.0012%) unweighted, 20hz - 20khz; -1dbfs input< span>-78db>

Monitor Outputs Stereo Level Balance

±0.02dB @ 997Hz

Monitor Outputs Output Impedance

Nominal output impedance = 136Ω balanced (68Ω each phase)

Monitor Outputs Channel Count

2 Out

Monitor Outputs

2 x 1/4" TRS stereo jack
Headphone output
Headphone Output 0 DBFS Reference Levels

+16dBm ± 0.1dB

Headphone Output Frequency Response

20Hz - 20kHz ±0.2dB

Headphone Output THD + N

<-75db (0.018%) unweighted, 20hz - 20khz< span>-75db>

Headphone Output Stereo Level Balance

±0.05dB @ 997Hz

Headphone Output Dynamic Range

114dB 'A'-weighted (typical), 20Hz - 20kHz

Headphone Output Impedance

10Ω

Headphone Impedance

32Ω - 600Ω

Headphone Outputs Channel Count

2 Stereo Channels Out

Headphone Outputs Headphone Outputs

2 x 1/4" TRS stereo jack
Digital performance
Supported Sample Rates

44.1 / 48 / 88.2 / 96 / 176.4 / 192 kHz at 24 bit

Clock Sources

Internal, ADAT, S/PDIF, Word Clock, Loop Sync or from Dante Network Master
Line level
Line Level Channel Count

16 In and 16 Out

Line Level Input

2 x DB-25 connectors (AES59)

Line Level Outputs

2 x DB-25 connectors (AES59)
ADAT
ADAT Channel Count

Up to 16 In and 16 Out

ADAT Input

2 x TOSLINK connector

ADAT Output

2 x TOSLINK connector

Channel Assignments @ 44.1 KHz, 48 KHz

Port 1 = Channels 1 - 8 , Port 2 = Channels 9 - 16

Channel Assignments @ 88.2 KHz, 96 KHz

SMUXI: Port 1 = Channels 1 - 4, Port 2 = Channels 5 - 8

Channel Assignments @ 176.4 KHz, 192 KHz

SMUXII: Port 1 = Channels 1 - 2 , Port 2 = Channels 3 - 4
S/PDIF
S/PDIF Channel Count

2 In and 2 Out (Optical up to 96kHz)

S/PDIF Inputs

1 x RCA phono socket (1 x TOSLINK up to 96kHz)

S/PDIF Outputs

1 x RCA phono socket (1 x TOSLINK up to 96kHz)